Roosevelt Mills, an oral history.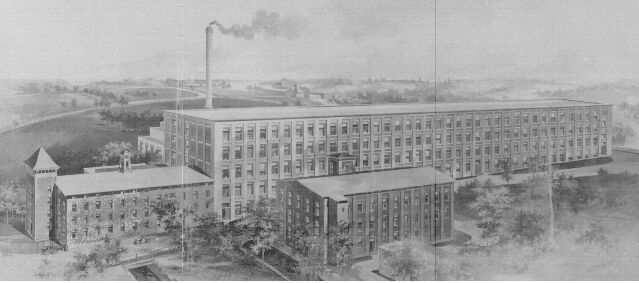 (The following article is based on a taped interview conducted by Ardis Abbott in 1978 with Roosevelt Mills founder Joseph S. Carter.)

When he was born in Sicily in 1909, Mr. Joseph Carter's name was Sebastiano Giuseppe Quattrocchi. His father passed away during the First World War in 1915, when Joseph was only six. At that age, his long life of hard work began with a job at a blacksmith shop. At age nine he moved on to a machine shop, and at 12 he joined the Italian Merchant Marine.

"Being that I was the only boy in the family, with two sisters, I had to make a living," Mr. Carter said. He remained in the Merchant Marine until he was 19, working his way up from dishwasher to deck boy to quartermaster. In 1928 Mr. Carter's ship arrived in Philadelphia and he decided to remain in the U.S. The only money he had was ten dollars given to him by the ship's captain. This was soon gone, however, because he pooled his money with that of four other former crewmen who hired a cab to take them to Brooklyn, where they had relatives. Mr. Carter went along, although he knew no one in New York.

After he had walked the streets for several days, a woman in the neighborhood offered him food and invited him to live in a vacant apartment in her building. Shortly thereafter he got a job in a machine shop, where he earned $20 a week. "I felt like a rich man already," he recalled. His American career was underway. Unfortunately, this prosperity was not to last as the Depression hit, throwing vast numbers out of work. Nonetheless Mr. Carter persevered in his life in New York, where he married and started his family.

The future sweater manufacturer saw his first knitting machine at Brooklyn's Myrtle Knitting Mills. "They wouldn't give me a job because I had no experience, so I asked them to let me try for one week," Mr. Carter said. The pay was $7.50 for a six-day week with 12-hour days.

Mr. Carter quickly proved himself to his new employer. "Three months later I became the foreman in charge of knitting machines," he noted. That same year, 1933, the company moved to Unionville and Mr. Carter went with it. Two years later he was superintendent of the whole factory. As time went on he learned the machinery well enough to come up with new ideas and obtained a number of patents.

While life in Connecticut appealed to the Carters, Unionville was too quiet after New York City, so they moved first to Hartford and later to West Hartford. In 1938 Joseph Carter became a naturalized American citizen.

In 1941 Mr. Carter went into business for himself, opening the Manchester Knitting Mill which manufactured sweaters and scarves for the military. "We became the largest scarf manufacturer in the world," he recalled. "I invented a knitting machine that could make one scarf every three minutes."

In 1951 Mr. Carter moved his business to Rockville, and Roosevelt Knitting Mills was born. He named it after FDR because the mill owner thought so much of the president for the way he got the country through the Depression. The company went on to gain a nationwide reputation for its sweaters and other garments. In 1961 John Carter would join his father in the family business.

The East Main Street building occupied by Roosevelt Mills consisted of two sections. The older one, formerly part of the Hockanum Mill, was a stone structure built in 1834 (see Preserving a Bit of the Past), while the newer section, built in 1906, was reinforced concrete. Mr. Carter rented the facility before purchasing it in 1964.

Although other textile manufacturers were moving south in the early 1950s, Mr. Carter never considered doing so. "I felt I owed something to Connecticut," he explained. The Rockville location provided more space for production, and workers were available, including those laid off from the mills heading south. Many had been weavers instead of knitters, so retraining was necessary.

At first Mr. Carter worked with contractors, but then he employed his own salesmen selling to major retail chains, department stores, and specialty shops. He made weekly visits to the company's sales office in New York, the center of the textile trade. There was also a showroom in Boston.

"We became one of the largest payrolls in town," Mr. Carter said of the Rockville plant, noting that the work force expanded from 100 to 250 workers. As a matter of principle, Roosevelt Mills used only American-made materials and equipment, even though this was not always smart from a business point of view.

The factory was organized for maximum efficiency. One department occupied each floor, so if some departments were working when others were not, the parts of the building not in use could be closed down. Mr. Carter also devised a chute to move fabrics from one floor to another.

Mr. Carter proudly noted that his factory was "not a sweat shop." The entire building was air-conditioned, and workers had pensions, profit sharing, and medical insurance. Women made up about 80 percent of the work force, and working hours were flexible.

By the late 1970s, however, foreign competition was taking its toll. "I didn't want to see the mill go down the drain," he said. "It's like one of my children." Anticipating the effect of the mill's closing on the local economy he added, "When we go, we'll make a big hole here."

The years that followed this 1978 interview did indeed see the demise of Roosevelt Mills. Foreign competition drove the Carters to sell the business in 1982 although they remained on the scene running the day-to-day operation of the new company. A second sale took place in 1986, at which time the Carters remained as consultants to the business. The mill closed in 1988. Joseph Carter passed away on his 89th birthday, in 1998.